The Architectural Symbol Of Nha Trang
The 5 star luxury hotel & resort complex, Beau Rivage Nha Trang- where converge all of luxury elements, sophisticated lifestyle creating a different experience for customers. The project includes one hotel tower, one condotel tower, shopping and entertainment center, satisfying almost the needs of enjoyment and relaxation of the customers.
Commercial Name:

Beau Rivage Nha Trang

Owner:

Tropical Nha Trang Company Limited.

Location:

40 Tran Phu Street, Nha Trang City

Type of project

Commercial and entertainment complex and 5 -star condo hotel.

Type of apartment:

1 block of hotel, 1 block of condotel (44m2 -157 m2)
Located on the beautiful coastal street of Nha Trang
Beau Rivage Nha Trang is located at 40 Tran Phu Street, the most beautiful coastal street called as "summer capital" in Nha Trang. This favorable location helps Beau Rivage Nha Trang have beautiful views of the sea and the city. This is one of the most beautiful areas to view Nha Trang Bay. With the location "heart of the center" Beau Rivage Nha Trang becomes a destination for visitors to visit in Nha Trang. From project, it takes from 5 to 10 min for visitors to connect with the famous tourist attractions such as Da Church, Central Square, Tram Huong Tower, Dam Market, Central Theater …

In addition, this is the last remaining project on Tran Phu street, therefore the price of Beau Rivage will rapidly increase – "gold guarantee" for investment decisions of customers.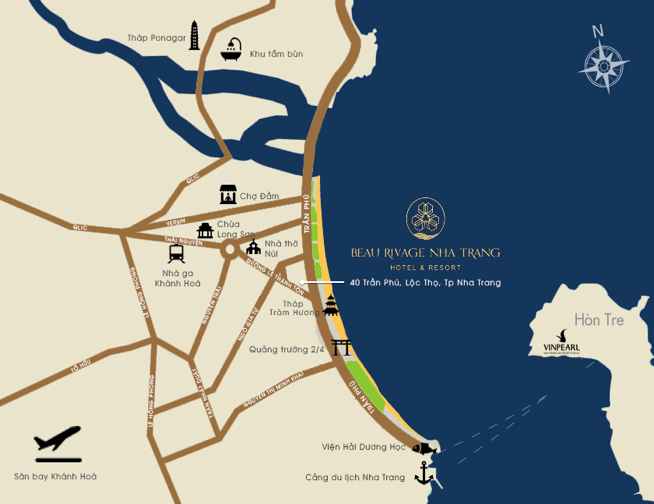 OWNER TROPICANA NHA TRANG
Nha Trang Tropical Limited Company (Tropicana Nha Trang) is the successful joint venture of two firms: Toan Hai Nam Development and Investment Co., Ltd and Khanh Hoa Tourism Company. Tropicana Nha Trang was merged on April 20th, 2012 according to business license number 4201469800 issued by Khanh Hoa Department of Planning and Investment.
On December 18th 2012, Tropicana Nha Trang was granted the certificate of investment and development by the People's Committee of Khanh Hoa province with the charter capital up to 200 million USD.
MANAGEMENT COMPANY WYNDHAM
Founded in 1981, Wyndham Worldwide is one of the  largest global managing hotel and tourism corporation. Wyndham Worldwide owns several prestigious hotel brands, a holiday exchange system with more than 3.7 million members and 915,000 vacation owners worldwide. As of December 31th  2012, Wyndham Worldwide has 8,400 hotels and resorts, over 728,200 rooms and over 79 countries on six continents.
Wyndham Worldwide officially signed with Tropicana Nha Trang to take on the role of managing and operating the Beau Rivage Nha Trang project. This is the first project this unit signed cooperation and management in Nha Trang.