Located on the prime location of GRAND HÔTEL BEAU RIVAGE – A masterpiece for upper classes that French has used since 1926. A commercial, entertainment complex and 5 – star condo hotel is formed and convergenced advanced factors to become the new tourism symbol of Nha Trang
Beau Rivage Nha Trang – Ancient to Precent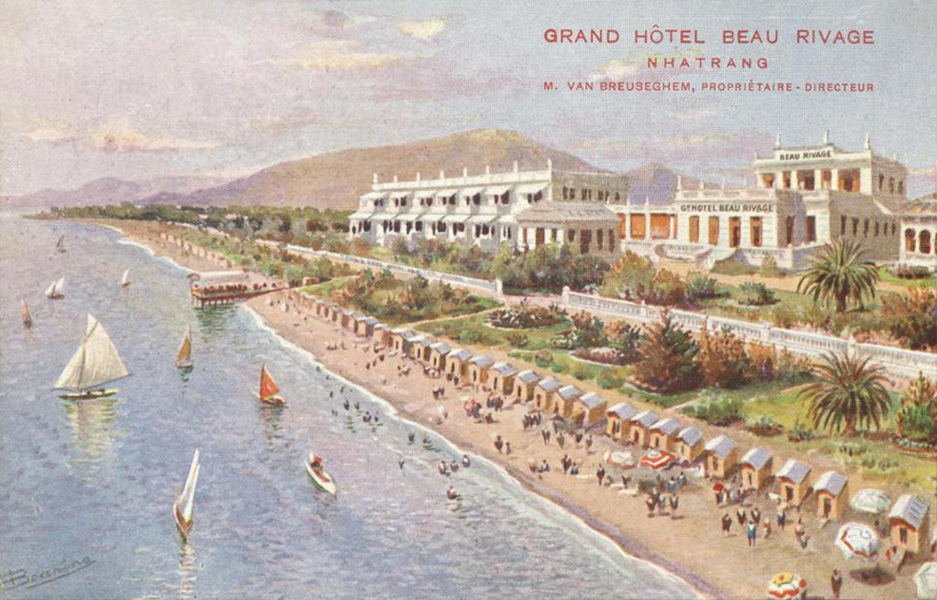 In 1926, the French used a luxury hotel, exclusively for French and Indochinese, named Grand Hotel Beau Rivage. It was on the most beautiful street in Nha Trang Bay and was one of the first hotels in the world named Beau Rivage. At that time, Beau Rivage was considered as a symbol of luxury lifestyle. Nowadays, it has more than 30 hotels named Beau Rivage around the world
Witnessed many ups and downs of history, Grand Hotel Beau Rivage was renamed Hai Yen Hotel in 1975. Hai Yen Hotel has been upgraded to welcome foreign and domestic diplomats as well as famous politicians and artists. Former Secretary Do Muoi, Nong Duc Manh visited and stayed a the hotel.
The People's Committee of Khanh Hoa Province officially handed over 11,000m2 of Hai Yen hotel to Tropical Nha Trang Limited Company to implement the project of Tropicana Nha Trang complex (renamed Beau Rivage Nha Trang later).
The International Concept Architecture design competition
With the desire to build a luxury real estate, converging outstanding advantages to become a new symbol of Nha Trang Bay – one of the 29 most beautiful bays in the world, the investor held The International Design Contest with the participation of five global design firms: Aedas, Korn Architects, CPG, R Design and Clarke & Associates. These design companies have reached impressive architecture works such as Changi Airport (Singapore), Marina Bay Sand (Singapore), Olympic Bird's Nest Stadium (Beijing) – Opera House (Sydney – Australia)… This is the first project in Vietnam which has organized the International Architecture Competition to select the suitable design for the project.
The judges of the competition are professors of reputable universities in the world: Kobe University (Japan), Frank Lloyd Wright University (Arizona, USA), University of Architecture, Ho Chi Minh City … Mr. Paul Stoll (Germany) – operator of Furama Hongkong Hotel and Founder of "World Heritage Road" is also one of the official judges of the competition.
The first prize was awarded to Korn Architects Joint-venture – Archiect (Germany), Arup – composition of this architectural work (England), JBA – M & E (Australia) and Halo – Furniture (USA).